Innovation in Making a Radio Program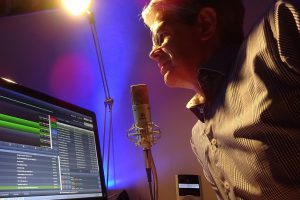 Today's digital technology provides many opportunities for new ways of making a radio program. The idea is to extensively rely social media, the cloud and studio automation software. The vision is to make presenting a radio show as easy as posting a message on Facebook.
Jean-Paul Linnartz, professor in the Signal Processing Systems group of the faculty of EE started testing this concept in 2015 with a team of former radio colleagues who previously worked with regional broadcasters in the Netherlands and in Belgium. The Meuse-Rhine Euroregion and the Province of Limburg sponsored this to try out innovative ideas for "the inverted Studio", that is, to run a radio station in the cloud, while the radio team is mainly on the move, uploading their programs or news clips from a pub, from their office, from home, basically from anywhere imaginable. The concept has partly been borrowed from the 3TU (currently 4TU) Education Innovation ambition of an "inverted classroom", in which teachers spend less time in lecturing but devote more time to interaction.