Tussen gigahertz radio en infrarood licht: de wereld van de terahertzen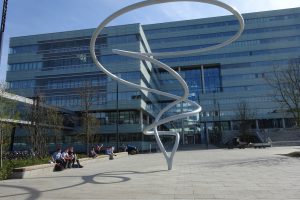 Electromagnetic waves at frequencies in between radio and infrared light: Terahertz waves offer great new possibilities: ultra high speed radio communication, but also the ability look "through" objects, to detect weapons, explosives, drugs, …. Detecting medical conditions in anon-invasive amnner or even from a distance….. Marion Matters at TU/e explores this exciting field.
Licht kun je beschouwen als radiogolven, maar dan wel van een zeer hoge frequentie, zo hoog dat de eigenschappen als radiogolven niet altijd meer herkenbaar zijn. Maar er zit nog een flink "gat" tussen de hoogste frequentie van de radiogolven die we nu gebruiken en het licht. Maar juist dat onontgonnen stuk van het spectrum, dus tussen Gigahertz radio en infrarood licht in, dat blijkt toch heel interessant. Dat is het domein van de terahertzen.
Met moderne elektronica lukt het maar net om dat soort golven en signalen te maken. Maar de belofte is groot: Het kan worden gebruikt voor extreem snelle radio verbindingen. Maar een even interessante eigenschap is dat allerlei stoffen in resonantie komen bij die terahertzen. En omdat elke molecuulstructuur eigen resonanties heeft kun je complexe stoffen heel precies analyseren. En dat analyseren kan ook op afstand.
Op luchthavens zie je al terahertz scanners, rond draaiende robotarmen in een hokje waar passagiers met armen boven het hoofd in staan om wapens of explosieven te detecteren. Maar er zijn ook toepassingen om door de verpakking heen te scannen hoe vers vlees in de supermarkt is. Of medische toepassingen, om gemakkelijk verschillende medische aandoeningen te herkennen.
De TU Eindhoven werkt hard aan het realiseren van technologie waarmee terahertz signalen kunnen worden gemaakt. Maar ook aan wat je er dan mee kunt doen.
In Studio Brainport, een interview met Marion Matters over de mogelijkheden met terahertzen, op Studio040 in een co-productie met Radio 4 Brainport, zaterdag van 9 tot 10 uur.
You can listen to the English version of the interviews at Radio 4 Brainport.