The Holst Center inspires Brainport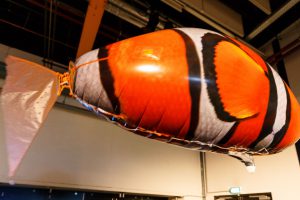 Radio4Brainport in Dutch: on studio040 we present a weekly program called Studio Brainport. Listen to a report o the Holst Event.
Also e52.nl reported on the event:
De vooruitgang van de innovaties van het researchcentrum Holst was te zien tijdens het Holst Spring Event afgelopen vrijdag. In het Klokgebouw waren verschillende sprekers aanwezig om te praten over hun visie op de toekomst van verschillende technologische gebieden. Daarnaast was er de gelegenheid om de onderzoeksprojecten van het bedrijf van dichtbij te bekijken. Onder deze projecten waren bijvoorbeeld in-mold electronics en flexibele elektronica te zien.
Keynote speaker van de dag was de Vlaamse ondernemer Peter Hinssen, die sprak over de 'Day After Tommorow'. Hiermee doelde hij op een lange termijnvisie op de toekomst van technologie en welke plaats die in ons leven zal krijgen. Onder het motto 'We are just getting started' vertelde hij over de ontwikkelingen die AI en IOT door gaan maken. "Artificial Intelligence is al sneller en nauwkeuriger dan wij in het herkennen van de inhoud van foto's en dat is nog maar het begin. Veel taken die wij nu doen zullen in de toekomst worden overgenomen door efficiëntere en snellere machines. Alle apparaten zullen verbonden zijn met elkaar, wij zien deze ontwikkelingen nu al, maar dit is nog maar het begin."
Het evenement was opgedeeld in verschillende sessies over drie hoofdthema's. Bij het thema Smart Cities was de rode draad door de lezingen heen de vraag hoe we met data in een stad omgaan en hoe die beveiligd moet worden. Bart Preneel, professor aan de Katholieke Universiteit Leuven sprak over nieuwe ontwikkelingen in de cryptografie en de taak die de overheid heeft in de omgang met big data. Volgens hem is er een belangrijke keuze te maken op dit laatste gebied: Geef je de burger controle over de data die verzameld wordt of niet?