Radio 4 Brainport signs contract with United Nations Radio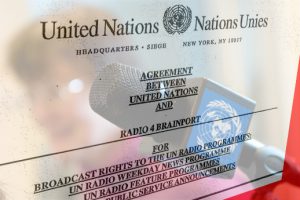 Radio 4 Brainport, the English language radio station for the international community in the Eindhoven TopTech region keeps you up to date, not only with the latest from Brainport, but also with the international current affairs.
Radio 4 Brainport now has signed a contract with United Nations Radio. This means that you can listen to a news bulletin from the United Nations studios in New York several times per day, in particular at 7:50 AM in the morning and at 17:20 in the late afternoon (5:20 PM).
United Nations Radio has a long standing history in bringing a global perspective on human stories. United Nations Radio is the international broadcasting service of the United Nations and is distributed by partner radio stations, now since July 2018, including Radio 4 Brainport.
On weekdays, you can already also hear news in English on Radio4Brainport.org by Feature Story News every hour, a few times per day the Daily Tech Headlines, on weekends you can listen to Dutch News Podcasts and Radio 4 Brainport has its own updates, interviews and reports.