IO Peak Awards, hear it all on Radio 4 Brainport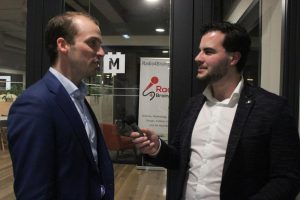 During the first three editions, he was the chairman of the jury, this year Staf Depla is the big winner of the High Tech Piek Event that Innovation Origins organizes every year around Christmas. Depla, alderman for Economic Affairs in Eindhoven until last Spring, received the award for his efforts around the Brainport Action Agenda, which has helped the Brainport Eindhoven region move forward in the Netherlands as well as abroad. Previous Peaks have been awarded before to Guus Frericks (2015), Rob van Gijzel (2016) and Maarten Steinbuch (2017).
The STARs of 2018, awarded for performance in the past year, are John Blankendael, BIC, Carlijn Bouten, TU/e Professor of Biomedical Technology, Saartje Janssen, director Summa, and Jean-Paul van Oijen, Twice
The KNALLERs 2018, thus people of whom a lot is expected in 2019 are Lex Hoefsloot, Lightyear, Jalila Essaidi, BioArt Laboratories Max Aerts, Dutch Energy Solutions, Ineke Hurkmans, IamNL.
You will hear the all on Radio 4 Brainport