Driver of Change, live from the Dutch Design Week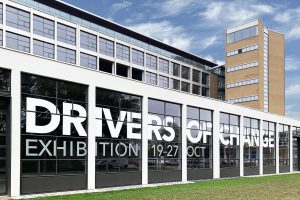 Radio 4 Brainport at work in Strijp-T building TQ6, at the Drivers of Change exhibition of the Eindhoven University of Technology,
In our Health episode, guests of our moderator prof. Jean-Paul Linnartz were prof. Carlijn Bouten and PhD candidate Bart Tiemeijer from the dept. of Biomedical Engineering, and Guid Oei, part-time professor at TU/e and gynaecologist at Maxima Medisch Centrum.
You can now also listen to the podcast of Tuesday's program about Health at https://www.patreon.com/posts/ddw-2019-drivers-31003359
Or, in the AI episode, Jean-Paul Linnartz welcomes Maarten Steinbuch, Professor in Systems and Control, Carlo van de Weijer, head of the Strategic Area Smart Mobility, Vincent Müller, Professor Industrial Engineering & Innovation Sciences, and team Tech United, the world champions robot soccer from the Eindhoven University of Technology, to discuss Artificial Intelligence.