Local news by EindhovenNews.com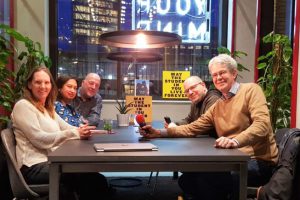 Eindhoven News and Radio 4 Brainport work closely together in bring the local news.
Radio4Brainport is an independent expat radio station in English in the Brainport region. It has been broadcasting since 2016 with the help of a team of volunteers. At the moment Radio 4 Brainport broadcasts hourly news including international, national and local news headlines, as well as traffic updates, weather bulletin, talks on innovation and science, politics etc. Eindhoven News' daily online news is very suitable for this purpose.
The radio station provides news and reports in English. Reading all the news is time consuming, a technical development to reduce the recording is very convenient. Using Eindhoven News is logical as they already have the regional news in English and their target audience is the same.
"Eindhoven News with its 10 years of experience in connecting the internationals through news, events and various other social activities can most surely help in creating a larger platform for Radio 4 Brainport," says Irene Martens, Founder Director Eindhoven News.
Jean-Paul Linnartz, co-founder of the radio station also believes that this development is a major enhancement to their programming.
Besides the news more live streams and podcasts (made by Radio 4 Brainport) appealing to the internationals are going to be shared. These podcasts now are available on the site of Eindhoven News.