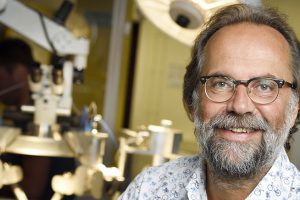 Studio Brainport is a weekly program in Dutch that we co-create with Studio040. An English version can be heard in the programs of radio4brainport.org
In de aflevering van deze week was Prof. Maarten Steinbuch te gast. Hij kijkt vooruit over hoe we in de toekomst kunnen leren als je technische feitenkennis rechtstreeks naar ons brein kunt oploaden. Kun je dan inzicht en inventiviteit meteen ook meegeven of blijft het leggen van verbanden tussen feiten en technieken toch een kwestie van eigen ervaring en een echte menselijke gave?
Op Soundcloud hoor je de verkorte podcast versie, met de muziek eruit geknipt.
<iframe width="100%" height="450″ scrolling="no" frameborder="no" src="https://w.soundcloud.com/player/?url=https%3A//api.soundcloud.com/tracks/331212855&amp;auto_play=false&amp;hide_related=false&amp;show_comments=true&amp;show_user=true&amp;show_reposts=false&amp;visual=true"></iframe>